Compare prices on Troy Aikman Cowboys Throwback Jerseys and other Dallas Cowboys fan gear. Save money on Cowboys Troy Aikman Throwback Jerseys by viewing results from top retailers.
Ultimate Dallas Cowboys Search (No Need to Enter Team Name)
Troy Aikman Cowboys Throwback Jersey at Amazon
Dallas Cowboys Troy Aikman Throwback Jersey at Other Shops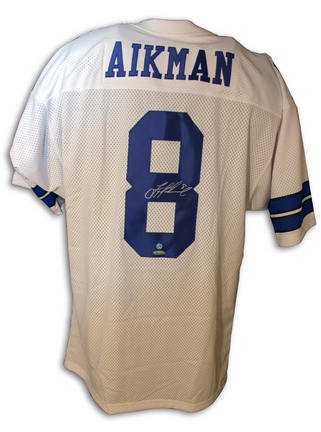 Troy Aikman Autographed Dallas Cowboys Throwback White Jersey
Price: $365.71

A Certificate of Authenticity is included with this Troy Aikman autographed Dallas Cowboys NFL jersey.
Dallas Cowboys #8 Troy Aikman Navy Blue 1992 Throwback Collectible Jersey
Price: $224.95

Celebrate the year Dallas set a team record for regular season wins with a 13–3 mark, capping it off with a monster victory in Super Bowl XXVII, with this throwback 1992 c ...